We're catching up with pre-orders, and new orders are expected to ship in January 2023. Please subscribe to our monthly newsletter, so we can keep you updated.
This is the one and only Ultimate Hacking Keyboard, or to be more precise, the UHK 60 v2, our flagship product, now with hot-swap sockets, per-key RGB backlighting, double shot PBT keycaps, USB-C, and braided cables.
The UHK 60 v2 is a fully programmable, impeccably built, open source, split mechanical keyboard – designed for extreme productivity and ergonomics.
Key switch type
Key switch type is the defining factor that determines the feel of any keyboard. We offer the following Kailh switch types; each has its character.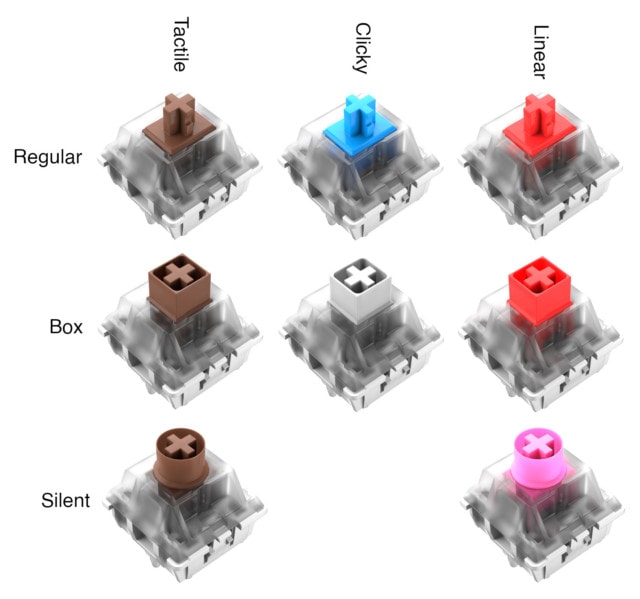 Let us first look at the vertical axis of the matrix. You may already be familiar with regular MX switches, as they're available in countless other keyboards. The box switches feel more precise; they're better protected from dust, and we recommend them for the best typing experience. Last but not least, the silent switches make your UHK more bearable in noise-sensitive environments at the expense of some mushiness.
As for the matrix's horizontal axis, we recommend clicky switches are the best typing experience, but your environment may not tolerate their noise. Gamers often prefer linear switches, and tactile switches are the best middle ground between typing and gaming.
| Switch name | Feel | Actuation force | Audio sample |
| --- | --- | --- | --- |
| Regular Brown | Tactile | 50 gf | Play |
| Regular Blue | Clicky | 50 gf | Play |
| Regular Red | Linear | 45 gf | Play |
| Box Brown | Tactile | 60 gf | Play |
| Box White | Clicky | 45 gf | Play |
| Box Red | Linear | 50 gf | Play |
| Silent Brown | Tactile | 45 gf | Play |
| Silent Pink | Linear | 35 gf | Play |
Currently, we offer every UHK switch option for the same price, but this will likely change eventually because some switches are considerably more expensive than others, especially the silent ones.
If you're still not sure which switch to choose, we strongly recommend purchasing the UHK switch tester.
Layout and keycaps
The UHK keycaps are best-in-class double-shot PBT keycaps that offer excellent shine-through performance, and the legends are easy to read even when they're not backlit. The surface of these keycaps never gets shiny with use, and their legends never fade. The keycaps' side legends are silk printed. We don't offer custom keycap printing options, and you can only choose the ones provided.
You can select English US (ANSI), English UK (ISO), Blank ANSI, or Blank ISO. Being a backlit keyboard, we implemented the blank option by placing small translucent dots on every keycap. All these keycap options are made of double-shot PBT.
We only provide a bar-shaped Enter key. The main reason is that it's more ergonomic than the L-shaped Enter key, and it's super easy to get used to, even for ISO users.
Box contents
The following items are included:
The UHK 60 v2 (left and right keyboard halves)
Braided bridge cable (11cm collapsed – 30cm expanded, or 0.35 – 1 foot), or make a custom length bridge cable
Braided USB-C to USB-C cable (180cm long, or 6 feet)
USB-C to USB-A adapter
Combined keycap and switch puller
Four hot-swappable flip-out feet
For maximum ergonomics (tenting and negative tilting), the UHK palm rest is strongly recommended.