Hi there, and welcome to this monthly UHK status update!
TL;DR: We've delivered about sixty UHK 60 v2 orders in October. We plan to ship hundreds of orders per month starting from November. The v2 palm rests, and extra feet are finally ready to ship. We've added several spare parts to our webshop. A new Agent version has been released, supporting arbitrary scancodes and restoring preloaded keymaps.
Production progress
In October, we received the much-anticipated mechanical support parts we told you about in our previous update. We've tested the parts, they work just as expected, and socket separation shouldn't be an issue going forward.
Unfortunately, we had to wait for the parts for quite some time, which halted production, resulting in only sixty assembled UHK 60 v2 units in October instead of the originally planned hundred units. We shipped many of these units at the end of October, so these days were quite a rush.
Luckily, we have also received the missing v2 palm rest parts and extra feet, so customers who ordered such items will be queued on a first-come, first-served basis.
We still only have black cases, so orders containing UHK 60 v2 items with non-black cases or extra non-black case items won't be sent to production until we have non-black cases in stock unless you ask us to switch the case colors of your order to black by filling out this form.
We plan to manufacture hundreds of UHK 60 v2 units starting from November, enabling us to combat the backlog of pending orders effectively. We're eager to receive many tweets like Peter's.
I have to find a reason to post this picture #ultimatehackingkeyboard isn't it awesome? 😅 pic.twitter.com/iYzMJUf8U0

— Peter Smulovics (@MountGellert) October 1, 2021
New orders are expected to ship in March, and we'll update the delivery status page every weekend.
Spare parts bonanza
A long time ago, during our crowdfunding campaign, I wrote an article on repair and how we planned to enable our customers to fix their UHKs if needed. Fast-forward six years, we've written many repair guides, we provide repair assistance and in-warranty repair service for free, and out-of-warranty repair service for very reasonable prices.
Many people may not know, but we also provide spare parts. Until this point, a very limited selection of spare parts has been available in our webshop, and the rest of the spare parts was only available via our customer support. To further our dedication to the noble cause of repair, we've added several additional spare parts to our webshop, so should you need any spare parts, you can pick them up and check out in no time.
Your UHK is an investment that should serve you for years to come. Don't throw it away if it has been broken. Feel free to reach out to us, and we'll help you make it shine in its former glory. As for the selection of the spare parts of our webshop, it's only expected to grow.
New Agent features
There are two major features of the new Agent 1.5.16 release that are worth mentioning.
The first feature is arbitrary scancodes. The scancode dropdown of Agent provides quite a few scancodes that should satisfy most needs, but some want more scancodes, for example, to bind special shortcuts that surely don't interfere with other shortcuts. This group of users may find the arbitrary scancodes feature very handy. To explain this feature, we have to get a bit technical.
There are three scancode types according to the USB interfaces that the UHK exposes:
The basic keyboard interface implements the Keyboard/Keypad Page, which contains alphanumeric, navigation, and regular scancodes. See chapter 10, page 53 of HID Usage Tables. Scancode type abbreviation is B for basic.
The media keyboard interface implements the Consumer Page, which contains volume adjusting and other media scancodes. See chapter 15, page 75 of HID Usage Tables. Scancode type abbreviation is M for media.
The system keyboard interface implements the Generic Desktop Page, which contains sleep and power down scancodes. See chapter 4, page 26 of HID Usage Tables. Scancode type abbreviation is S for system.
As for the valid numeric intervals of the scancodes, it's 1-255 for basic and system scancodes and 1-65535 for media scancodes.
You can write a string composed of the scancode type and scancode number into the scancode field to specify the desired scancode. Examples are B40, M160, and S10.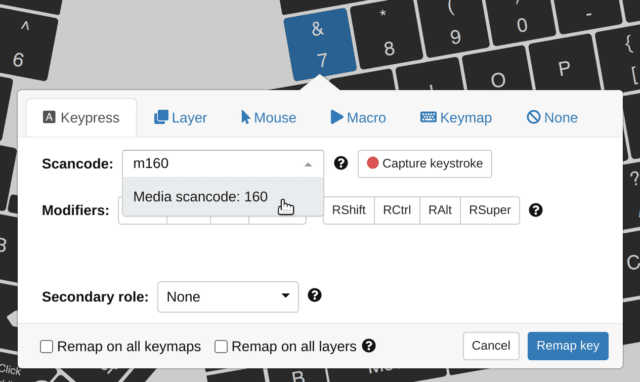 Agent substitutes the specified scancode with its well-known name if the scancode dropdown contains it. For example, the B40 scancode gets substituted with Enter. Otherwise, Agent will display the scancode as it is.
The range of available scancodes is huge, hosts recognize only some, and different operating systems and applications recognize different sets of scancodes.
The second new Agent feature allows you to add pre-loaded keymaps.
The UHK is preloaded with six keymaps: QWERTY for PC and Mac, Dvorak for PC and Mac, and Colemak for PC and Mac. You probably don't use all of these keymaps, so you can delete the unused ones in Agent to minimize clutter. Up until this point, you couldn't restore the deleted preloaded keymaps, but now, you can by using the plus icon next to the Keymaps menu item of the side menu.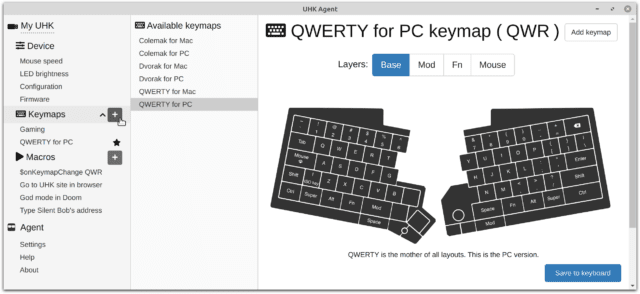 Thanks for reading this update! We'll be keeping you updated on all things UHK and plan to publish the next update at the end of November.