Hot-swap sockets, per-key RGB backlighting, double shot PBT keycaps, USB-C, braided cables, and much more – Say hi to the UHK 60 v2!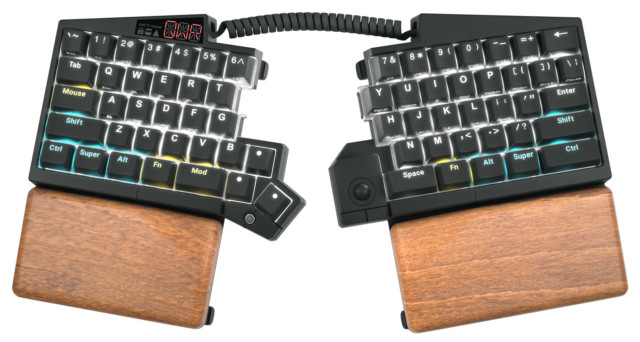 The previous UHK version, the UHK 60 v1, is out of stock and discontinued. The UHK 60 v2 is expected to ship around the end of January 2021, and you can pre-order yours now. We haven't raised the price yet, but we will eventually. If you own a UHK 60 v1 and want to purchase accessories, be sure to read the "UHK 60 v1 parts availability and compatibility" section at the end of this update.
Regarding the modules, we've upgraded every key cluster module pre-order for free to per-key RGB backlighting, hot-swap sockets, and double-shot PBT keycaps. All the modules are fully compatible with both the UHK 60 v1 and the UHK 60 v2, and firmware upgrades will be released as usual. We expect the first injection molded parts of every module type to be ready in a week, at which point we'll publish a dedicated update about them. In the meantime, please read the "Hot-swappable, backlit key cluster module" and "UHK 60 v2 timing rationale" sections below.
A little history
Our first keyboard, which you know as the Ultimate Hacking Keyboard, or more precisely as the UHK 60 v1, has been exceptionally well received. But it's been three years since we started mass production, and based on your feedback, we could make it even more powerful.
That is why we've been working over the last few years to take the UHK to the next level, keeping all you loved and adding everything you yearned for. The result is the UHK 60 v2, and we're super excited to unveil it now. If you liked the v1, you will love the v2.
I'll list all the improvements we've made, so you'll know if it's time for you to upgrade or purchase your first UHK. Fasten your seatbelts for this long ride.
Hot-swap sockets
Hot-swap sockets have been becoming increasingly popular in recent years. It's no surprise because they enable switch swapping, which makes replacing faulty switches or installing alternative switches a breeze.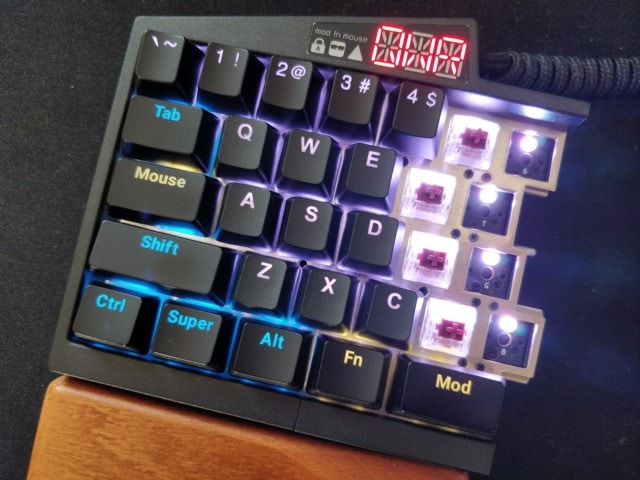 Speaking of replacing the switches of your UHK, we include a combined keycap and switch puller with every UHK 60 v2.

Regular, box, and silent switches
We can no longer offer the same switch types for the UHK 60 v2 that we provided for the UHK 60 v1 because they're not backlit-compatible. We also wanted to expand our switch range to offer a wider selection of quality product options. See the following switch matrix.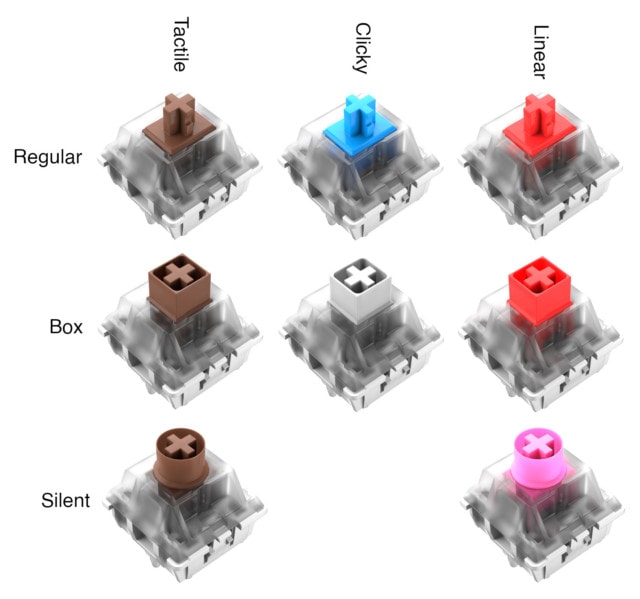 Let us first look at the vertical axis of the matrix. You're already familiar with regular MX switches, as their non-backlit version was available for the UHK 60 v1 and countless other keyboards. As for the box switches, they're my personal favorite. They feel more precise; they're better protected from dust and, in my opinion, offer a better typing experience. Last but not least, the silent switches make your UHK more bearable in noise-sensitive environments at the expense of some mushiness.
As for the matrix's horizontal axis, I think clicky switches are the best typing choice, but your environment may not tolerate their noise. Gamers often prefer linear switches, and tactile switches are the best middle ground between typing and gaming.
The above switches are all made by Kailh. Currently, we offer every UHK switch option for the same price, but this will likely change eventually because some switches are considerably more expensive than others, especially the silent ones.
Double shot PBT keycaps
We have provided laser-etched ABS keycaps for the UHK 60 v1. Most were happy with them, but some pushed for PBT keycaps, and understandably so, as unlike ABS, the surface of PBT keycaps never gets shiny with use, and their legends never fade.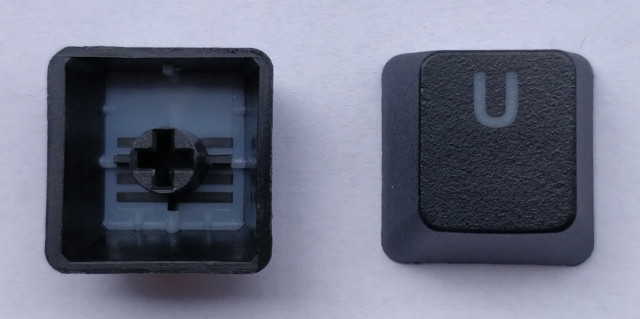 The parallel lines you can see on the above photo are the signature sign of double-shot keycaps. It's worth mentioning that these keycaps are best-in-class double shot PBT keycaps which offer unmatched shine-through performance, and the custom legends are easy to read even when they're not backlit.
The keycaps' side legends are here to stay, but they will be silk printed this time because laser-etching on PBT would have been very dark.
New keycap options
We've changed the keycap printing options for the UHK 60 v2. For the UHK 60 v1, you could choose Linux, Mac, Windows, Blank option, and ANSI vs. ISO was available as a separate option, resulting in 4 x 2 = 8 possibilities.
For the UHK 60 v2, you can select English US (ANSI), English UK (ISO), Blank ANSI, or Blank ISO. Being a backlit keyboard, we implemented the blank option by placing small translucent dots on every keycap. All these keycap options are made of double-shot PBT.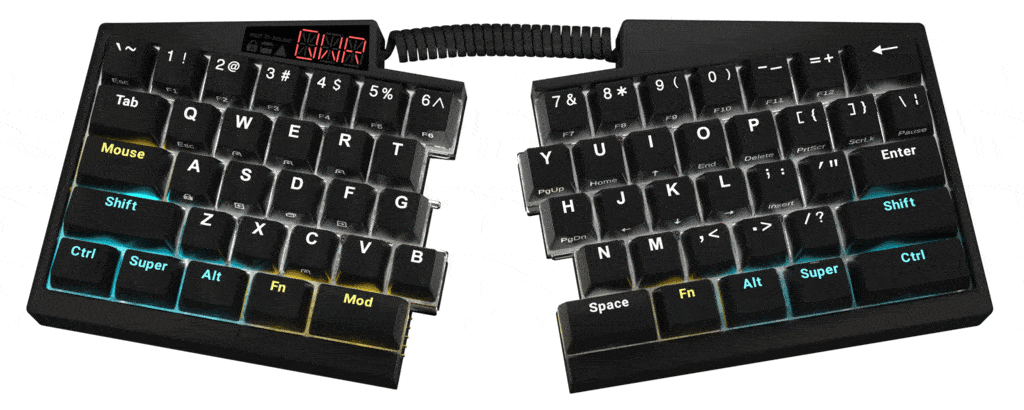 Functional per-key RGB backlighting
RGB backlighting needs no introduction, as you've probably seen countless backlit keyboards. The way the UHK uses RGB, however, is unique.
When I was thinking about adding RGB backlighting to the UHK, I had mixed feelings. I've seen loads of keyboards that tried to stand out by being flashy and utilizing all kinds of fancy colorful animations. In the true spirit of the UHK, it's a professional tool, not a Christmas tree ornament, I thought, so I implemented what I call "functional backlighting."
Based on the actual keymap and layer in use, every key has a function, and the keys light up according to the color of their function. See the following video.
As you can see, regular alphanumeric keys are white, modifiers are light blue, layer switcher keys are yellow, shortcuts are dark blue, mouse actions are green, macros are purple, keymap switch actions are red, and unused keys don't light up. This color scheme is useful for learning what the keys of your UHK do, and Agent will allow you to configure the colors.
USB-C connector, adapter, and cables
USB-C needs no explanation as everything comes with it these days. What might not be so evident to some is that USB4 is on its way, and both ends of the USB cable will feature USB-C connectors. Naturally, we want the UHK 60 v2 to be as future-proof as possible while providing backward-compatibility.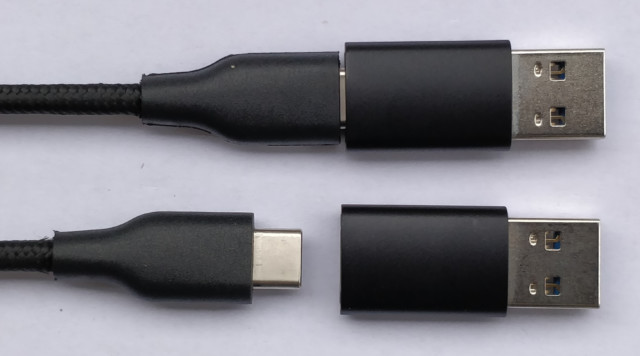 As you can see, we offer a USB-C to USB-C cable with a USB-C to USB-A adapter, so you're covered no matter what.
Unlike the USB cable of the UHK 60 v1, the new USB cable doesn't have a ferrite choke at its end near the UHK, so it's slimmer and also braided. For the sake of consistency, we've also braided the bridge cable.

We've made several improvements to USB connectivity besides simply switching to USB-C. The new USB connector is closer to the back side of the UHK, so it's much easier to access it than the previous USB Mini-B connector, which sat deeper. And the redesigned cable recess mechanism should be more gentle with the cable and maximize its lifespan.
Hot-swappable feet
UHK 60 v1 feet were fixed by screws, and the legs had to be inserted into feet bases after screwing. This solution was reliable and worked well, but the feet' installation and removal were quite time-consuming and demanding. This mechanism also discouraged experimentation with different setups, such as tenting versus negative-tilting.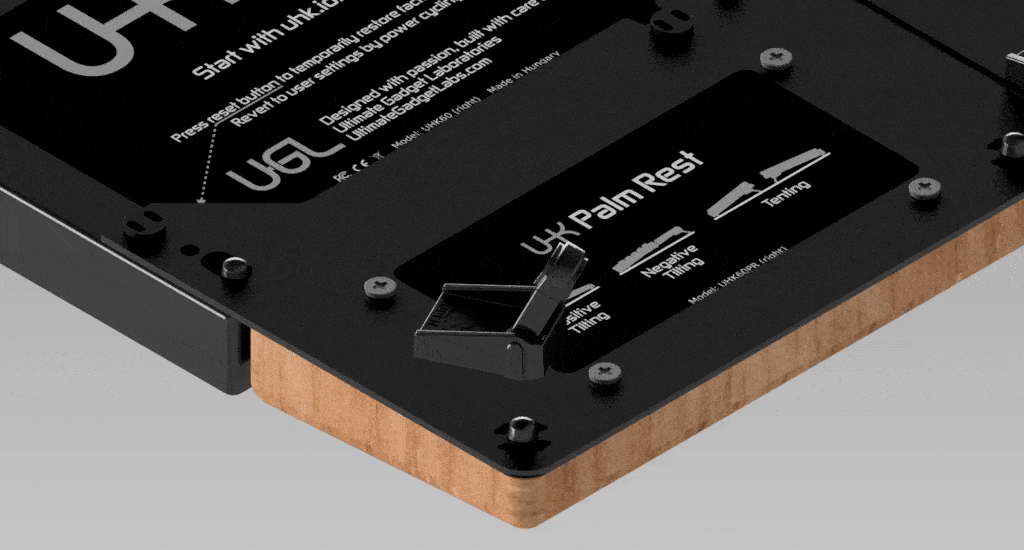 The redesigned feet mounting mechanism makes all the difference as the legs are pre-assembled into the bases. You only have to gently insert the feet into the newly created recesses of the back of the UHK, then turn them clockwise. You can simply remove the feet by turning them counterclockwise.
Removable palm rest
The palm rest had to be screwed to the UHK just like the feet. Screwing it was less of an inconvenience than screwing the feet, but it's still useful to easily remove the palm rest for transportation, so now it's possible.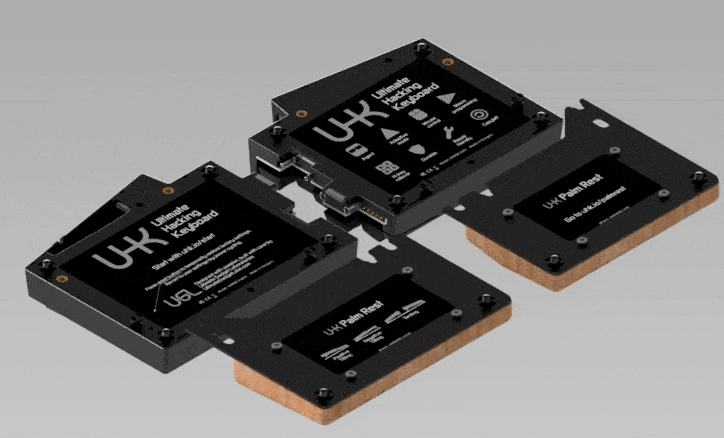 You only have to screw a pair of plastic bolts per keyboard half into the existing bronze inserts of the UHK once. Then you can simply pull the palm rest apart from the UHK to unmount it and mount it in the opposite direction. If you want to use your UHK flat, the plastic bolts are not in the way.
Hot-swappable, backlit key cluster module
Although this is not a module update, it wouldn't be complete without mentioning that the key cluster has also been upgraded to hot-swap sockets, per-key RGB backlighting, and double shot PBT keycaps. This free upgrade includes every key cluster pre-order ever made.
Regarding switch options, the switches of existing key cluster orders remain unchanged, but new key clusters are only available with the new switch types mentioned above going forward. Feel free to purchase alternative switches from any shop and replace them.
Production progress and ETA
The design and procurement of the UHK 60 v2 have been underway for years, and it's very close to completion. We have already had the product FCC and CE certified, had the first batch of PCBs manufactured, ordered almost all parts, and the firmware is working with Agent.
The main thing that's missing is the modification of the mold of the UHK case. The modifications will be barely visible from the outside except for the USB-C connector and the recess for the USB cable, but they still take some time. Our mold making contractor is busy with the module molds and expects to have the UHK 60 v2 mold ready by about the end of January 2021.
Another contractor is working on PBT keycap and keycap legend tooling, which are nearing completion and should be done well before case mold modifications.
UHK 60 v1 parts availability and compatibility
We're committed to supporting UHK 60 v1 owners for as long as possible, so let me elaborate on parts availability and compatibility.
The v1 palm rest is discontinued, and you can only purchase the v2 palm rest going forward. We've only changed the palm rest's base plate, which is only compatible with the new hot-swappable v2 feet. So if you're a UHK 60 v1 owner looking for a palm rest, purchase the v2 palm rest and v2 feet. This way, your UHK 60 v1 uses v1 feet, and your v2 palm rest uses v2 feet. Similarly, if you already have a v1 palm rest, you can use it with the UHK 60 v2, in which case the v1 palm rest uses v1 feet, and the UHK 60 v2 uses v2 feet.
We have an extensive inventory of v1 feet and black v1 cases that will likely last for years to come. These items are incompatible with their v2 counterparts, and you can purchase them in the "UHK 60 v1 parts" section of our webshop.
The UHK 60 v1 keycap set is discontinued. Still, you can purchase the new UHK 60 v2 PBT keycap set for your UHK 60 v1 or wait a few weeks until we announce the availability of the UHK 60 v1 backlight upgrade kit in a dedicated newsletter.
UHK 60 v2 timing rationale
Some of you who are waiting for your pre-ordered modules may be frustrated that we started to develop the UHK 60 v2 before delivering the modules. This timing is because we wanted to take our technology stack to the next level as soon as possible. As a direct result, we were able to upgrade the key cluster module, which benefits everybody.
Alternatively, we'd have to release the key cluster module as originally envisioned without all these improvements, then release another version with the upgrades. We knew we'd implement these upgrades anyway, so we've taken a bigger leap forward.
Rest assured, the funds required to release the modules have already been allocated for them, so we're not using the funds of module pre-orders to develop the UHK 60 v2.
Thank you for your patience as we move forward with production. We're confident the chosen path results in a more capable product line.
Closing words
If you're still here, then you're one of the brave few, and we appreciate your interest. This update was probably the longest I've ever written, but there was a lot of ground to cover, and I wanted to leave no stone unturned.
The UHK 60 v2 is the culmination of all our experiences, and it's been a huge effort to make it happen. It packs quite a punch, and it's the best value we've ever provided, especially while we don't raise its price. If you've been on the fence, it's time to pull the trigger.
We'll be keeping you updated about the UHK 60 v2 in our monthly updates, and I'll publish an update about the modules in about a week.