Hi there, and welcome to this delayed monthly UHK status update!
TL; DR: Except for small refinements, the molds of the modules are done, and we have some great looking samples to show you. We'll send a couple of module prototypes to select testers in December. We plan to start module shipment at the end of January 2021. PBT keycap tooling is coming along nicely. Agent now has a dark mode.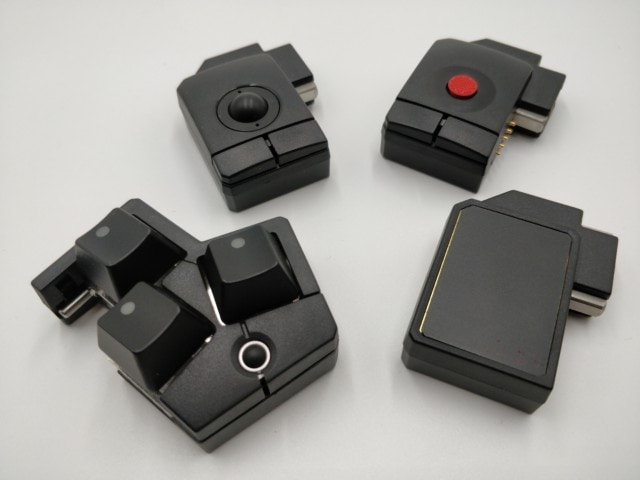 The modules look almost perfect from the outside. Minor surface defects result from not using the final injection molding machine and not setting optimal production parameters, both non-issues for the final production run.
Despite their nearly perfect look, some tooling changes still have to be done to the modules. We'll fine-tune the length of the bosses of the microswitches to achieve optimal actuation force, and some other internal tweaks have to be done to optimize the parts for assembly.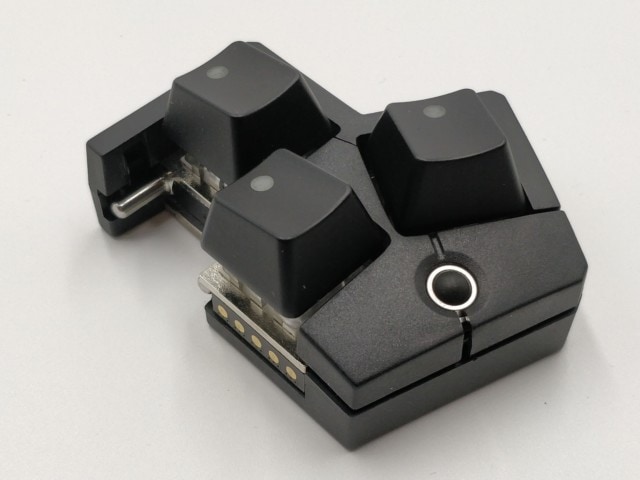 The key cluster plastic parts should be fine as they are, and we don't plan to make changes to them. The keycaps on the above photo are not final. The final keycaps will be made of PBT, and the bottom two keycaps will be convex.
Due to popular request, we'll include three extra blank ABS keycaps for every key cluster for no additional cost to make key clusters more consistent with UHK 60 v1 keyboards.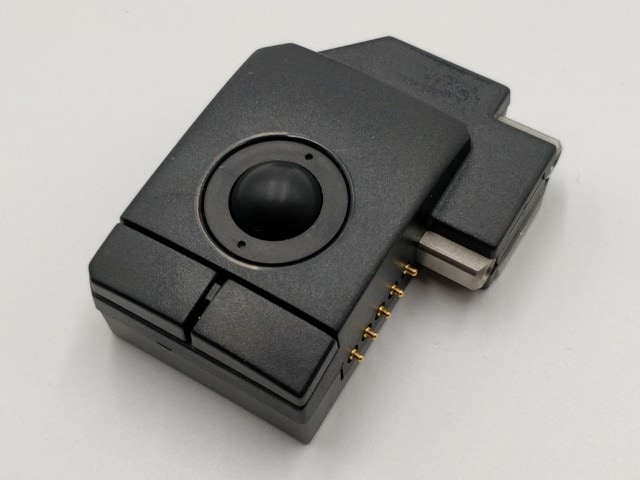 The inner trackball housing needs to be adjusted for the distance between the ball and the optical sensor.
The trackpoint is already working fine, but we're experimenting with optimal trackpoint cap height, which may affect the inner holder part. We plan to add a nice texture to the big glossy area near the cap. These are minor tooling changes.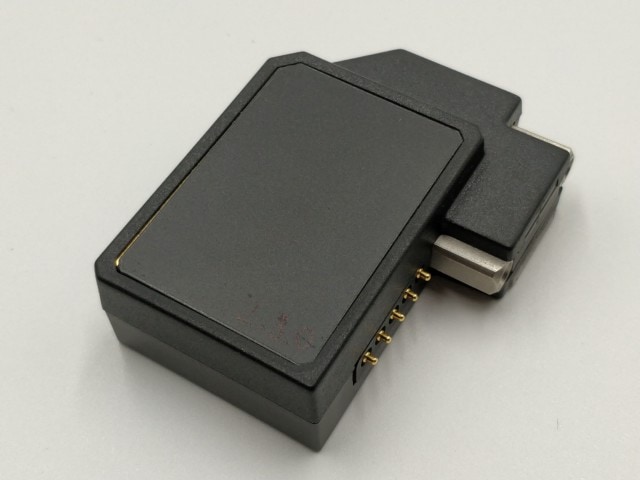 The touchpad plastic parts work flawlessly. The golden edge at the left side won't be visible as the final mylar sheet's size will be corrected. The marker text which contains the version number of the PCB won't be featured on the final product.
The above module plastic samples are surprisingly good for a first run. We aim for a second run in December, at which point the samples should be nearly perfect, and we plan to do a third run in January when we expect the samples to be flawless, and we plan to start shipping at the end of January 2021.
Plastic tooling does take more time than anticipated. We're doing our best to release the modules as soon as we can. We won't make any quality compromises, however, and the ETA will be extended if needed. We appreciate your continued patience, and we'll be keeping you updated.
PBT keycap progress
As for the UHK 60 v2, our supplier sent us a photo of production PBT keycap samples.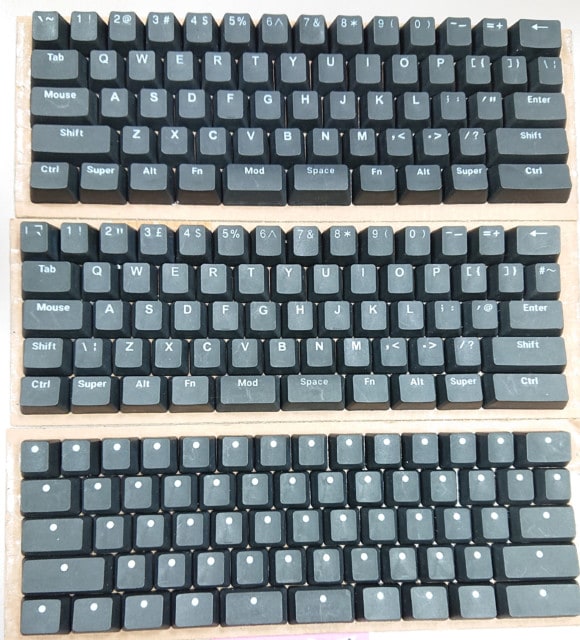 Almost all custom legends look fine, but Mod, Space, and right Shift will be revised.
Join the dark side
Mad props go to our fabulous contributor, Mikko Lakomaa, as he has almost single-handedly implemented Agent's dark mode.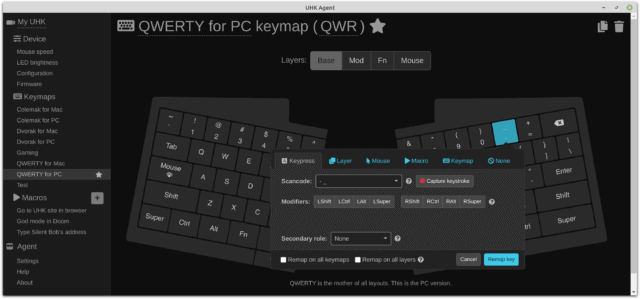 Update to the latest Agent version, go to settings, and join to the dark side.
Magnetic USB cable mod
Simon has written an excellent UHK USB magnetic cable modding guide, which you may want to follow.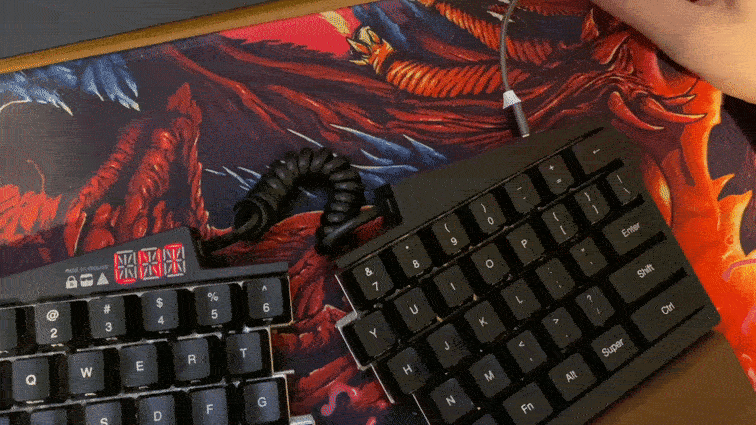 You can join the conversation on Twitter.
Your tweets
You guys keep sending your awesome tweets, and we're always eager to read and feature them! If you got your UHK, please share your love!
Which one is more cool ? left/right/neither … @UltHackKeyboard pic.twitter.com/Ol6PMXNDfj

— Manu Álvarez (@imacnu) November 17, 2020
Decided to nerd it up and recap my @UltHackKeyboard … love the feel of these spherical keys and it looks beautiful to me as well. Was able to replace nonstandard keys in 3 places with blanks… the only issue is the BS key which is an R2 and thus a bit recessed. pic.twitter.com/7zmKnJDseh

— Charley Kline (@cvkline) August 11, 2020
Had it for years, absolutely loved it. Only left it to switch to mechanical and these days am driving an @UltHackKeyboard 💚 pic.twitter.com/VlB31LcRZv

— Gina Häußge 😷 (@foosel) November 15, 2020
We'll be keeping you updated on all things UHK and are looking forward to talking to you in January or sooner.