Hi there, and welcome to the monthly UHK status update!
TL;DR: The schematics and BOMs of the module PCBs and FPCs (Flexible Printed Circuits) have been finalized. Every part has been ordered for the modules.
Our contractor keeps making progress with the key cluster mold. This is how it looks: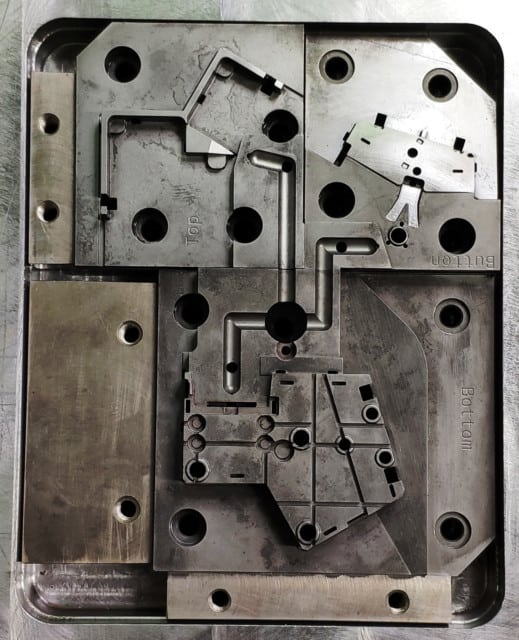 As for the right-side modules, András has been refining their mechanical design, and I've been tweaking their PCBs accordingly. These are some of the boards I've redesigned recently: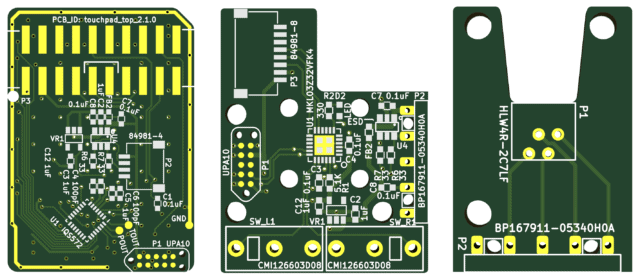 I consider the schematics and BOMs of each PCB and FPC to be fully finalized. András and I will meet over the next week and check how well the new 3D printed module cases fit with the new PCBs. Chances are high that everything will fit well, at which point the machining of the right-side module molds will begin.
I recently visited our EMC tester, TÜV, and we put the modules into the test chamber. The modules did not affect the measurements, which is exactly what I expected based on their small power consumption and small size. Given these results, the modules should pass the EMC tests with flying colors.
We've ordered every part of the modules from our suppliers. No parts shortages or delays are expected.
These days are unusually eventful due to the modules, hence this fabulously late monthly update. I'll do my best to keep you up to date in a timely manner going forward, but I'll keep prioritizing module development and production over the monthly updates for everyone's sake.
Your tweets
You guys keep sending your awesome tweets, and we're always eager to read and feature them! If you got your UHK, please share your love!
#GotMyUHK last week! In that short week I have become a complete convert. Personal computing will never be the same. @UltHackKeyboard good job on an excellent product! pic.twitter.com/Azi0lspGwU

— Tor Magnus Rakvåg (@TMAutomates) April 23, 2020
UHK rocking Tai-Hao Sunshine. Original source: https://t.co/eczLwftlLu pic.twitter.com/GCoTl7PMXl

— Ult. Hack. Keyboard (@UltHackKeyboard) April 26, 2020
VS Code on the iPad! Well, kind of. Technically it is running on the Raspberry Pi, powered and networked via USB-C. This setup would be pretty useful if Remote and/or Codespaces extensions worked. Unfortunately, both are closed-source and not available for ARM. Ask me anything! pic.twitter.com/gYdKgwYfuw

— benjaminwood (@benjaminwood) May 12, 2020
YES! My new @UltHackKeyboard arrived today. It's not just a keyboard, it's art. Time to unlearn 30+ years of ISO/swe and learn ANSI/us. #GotMyUHK pic.twitter.com/8AOZnsJriW

— Peter Merikan 🇸🇪 (@pmerikan) April 24, 2020
My UHK by @UltHackKeyboard rocking GMK Oblivion keycaps.

I had to get a bit creative with backspace, enter and \ to accommodate the unusual key widths on the right side, and had to keep the stock mod/space keys, but that should work out I hope. pic.twitter.com/figY6vET1K

— Gina Häußge 😷 (@foosel) May 4, 2020
We'll be keeping you updated on all things UHK, and are looking forward to talking to you on 2020-06-16.