TL;DR: We caught up with pre-orders, and new orders ship in a week! Our customers made some awesome carrying cases for their UHKs. The UHK mouse mode is surprisingly useful, and viable for creating digital art. We're making progress with the key cluster module.
Hi there, and welcome to our monthly status update! Ready for warp? Let's punch it!
Production status
We're thrilled to say that we've finally caught up with pre-orders, and incoming orders now ship in a week!
There are two exceptions regarding order parameters, though. If you want your UHK shipped in a week, you should pick the black UHK case option and a non-blank keycap printing option. Otherwise your order will take a bit longer due to temporary parts shortages. Feel free to check out the delivery status page for more information.
Please note that the order numbers have been removed from the delivery page. If your order hasn't shipped yet, it's because of the above exceptions. According to the delivery status page, you can shoot us a mail to change your order parameters to expedite delivery.
DIY UHK carrying cases
Some of you shared your DIY UHK cases, and they're so awesome that I ended up writing a dedicated blog post about DIY UHK cases. I'm very impressed by these cases, and I'm sure they're of interest of many UHK owners.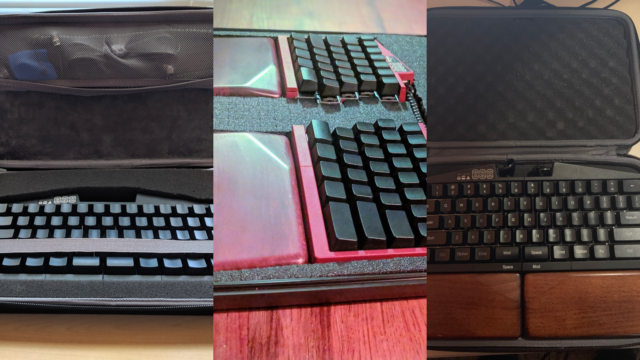 Creating digital art with the UHK
There are few keyboards with a dedicated mouse mode, and the UHK might just have the best implementation of all. Brandon Yu's drawing is a testament to this.
I wanted to get used to Ultimate Hacking Keyboard's mouse mode, so I painted this.

Done entirely with a keyboard, no mouse, no tablet, by moving the mouse with ijkl keys and clicking with the space bar. Took about 20 minutes.@UltHackKeyboard #art #digitalart pic.twitter.com/kg0qT917Dc

— Brandon Yu (@Chaoclypse) May 6, 2019
I'm super impressed by Brandon's work, and wouldn't have ever thought that anyone would create such a beautiful drawing purely with the UHK.
The UHK mouse mode will never be as good as a dedicated mouse, but it's surprisingly capable in the right hands. This is due to the implementation of the mouse pointer acceleration and its number of configuration options.
Key cluster module progress
We've been making progress with the key cluster module. András got the latest CAD model 3D printed, and we're glad to say it's more robust than ever.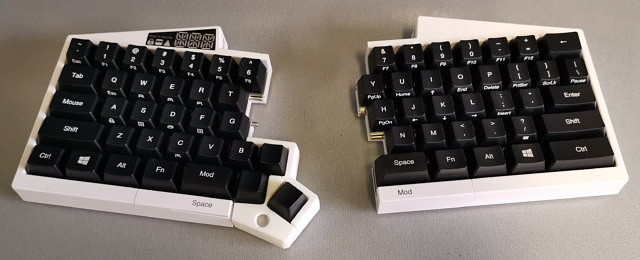 In the meantime, I've been doing some electronics prototyping.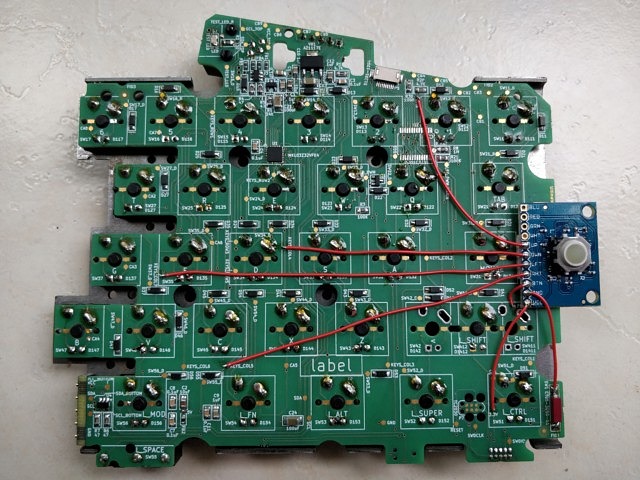 On the right side, you can see a breakout board designed by SparkFun, featuring a BlackBerry trackball – the kind of mini trackball that will be put into the key cluster. It's wired to an old hand-soldered UHK left half. The left half of the UHK is just like a module from an electrical, firmware, and protocol standpoint, so it's a great development board for modules. The design of the key cluster PCBs is in progress, and this is the whole Frankenstein keyboard on my desk: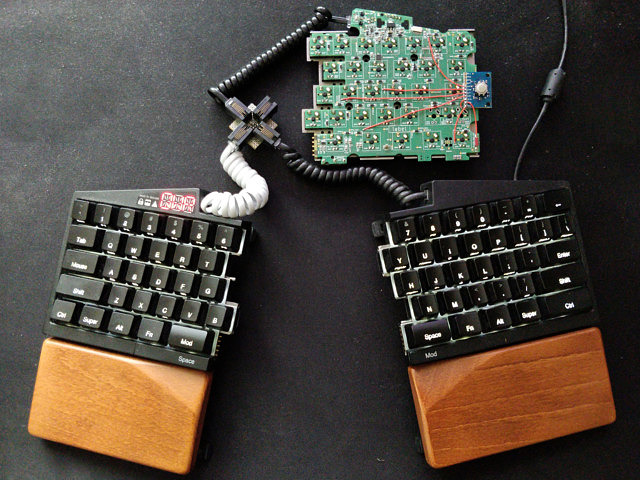 (Yes, my UHK is backlit. We'll release a backlight upgrade kit eventually.)
I also started to extend the firmware, and created a dedicated project for the key cluster module based on the firmware of the left keyboard half. The two projects contain a lot of duplicate code right now, so I'll be gradually extracting the shared code to a module API which will be consumed by all the modules.
Your feedback
You've been sharing more than your fair share of tweets over the last month. Thanks so much, and as always, please keep them coming!
Just #GotMyUHK from @UltHackKeyboard and it's as gorgeous as the first one! Now I don't have to lug mine to work and back every day. <3 Thanks László and friends! pic.twitter.com/C2b9UZYbtd

— ɥʇoɹןɥɐ oʞʞıɯ (@AmNicd) April 25, 2019
When you love a keyboard so much you order a second one. @UltHackKeyboard thanks for making an amazing product! pic.twitter.com/1Cx6ka8mNA

— Carl Sverre (@carlsverre) April 23, 2019
Received #GotMyUHK @UltHackKeyboard !! Already feel how amazing this keyboard is. I've been suffering from sore fingers due to my job but the very first moment I started typing I can feel the difference. The build quality is awesome and it is indeed ultimate keyboard for dev!! pic.twitter.com/fAnz79ctQd

— char_lee (@char_lee) April 23, 2019
#GotMyUHK and already in love with this well designed piece of hardware, love that capslock is replaced by a key I actually have use for. TY @UltHackKeyboard pic.twitter.com/ltgXIn17Su

— Christian Strang (@christianstrang) May 7, 2019
It finally arrived! @UltHackKeyboard #GotMyUHK
Already dumped my mouse in favor of keyboard control 😄😄 pic.twitter.com/gM6BLfFxTU

— Chris Werner Rau (@cwrau) April 29, 2019
Been using my @UltHackKeyboard for a couple of days now, split, tented, with palm rests. Can feel the difference in my wrists and little fingers (usual pain points for me) already. A bit on the pricey side, but worth it, would recommend to anyone! #GotMyUHK pic.twitter.com/zsmOYoWc6i

— Johnny Rubeard (@johnny_rubeard) May 10, 2019
I #GotMyUHK and I'm impressed by the excellent design and build quality by @UltHackKeyboard . Still in the learning curve after years using my Kinesis keyboard and pedals. pic.twitter.com/6VIXPSRurw

— Rafael Luque (@rafael_luque) April 25, 2019
Everyone have UHK, here is mine! @UltHackKeyboard #GotMyUHK pic.twitter.com/m7Z3JYjnm0

— Marcin Staniszczak (@mstaniszczak) April 25, 2019
Having used it for about three weeks now, I can safely say that the wrist rest for the @UltHackKeyboard is well worth the purchase. If it's in your budget, I would wholeheartedly recommend it.

— Mikael Muszynski (@linduxed) May 11, 2019
We'll be keeping you updated on all things UHK, and we're looking forward to talking to you on 2019-06-13.